Guide to playing solitaire online for free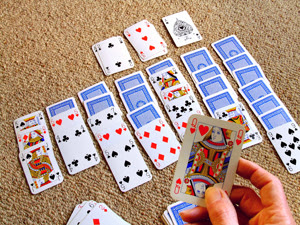 Solitaire has always been considered to be an interesting card game that you can play all the time on the internet. Things are going to be a lot simpler when you decide to start playing the free version of solitaire that is available on the internet. First of all you will no longer have to worry that you are not respecting the rules of the game correctly, as the online version is going to keep you from making mistakes regarding the rules of the game.
In order to be able to become a winner while playing solitaire you need in most cases to be able to use a lot of thinking power. There are many websites that are currently offering solitaire and this is one of the best. You can always play the game without having to register, but in case you do sign up for an account you will be able to compare your scores with the other player.
The free solitaire games that are available on the internet can be played straight in your browser and are currently one of the best way you can keep yourself busy. You will probably have countless hours of fun while playing the game from this moment on and there are always many great sources of fun as this game never gets old and every time you start playing a new game, you will have a new challenge in front of you.
The solitaire players will be able to develop different techniques and strategies while playing this game in order to become a winner. There are always many cards that need to be arranged and it's always up to you to make the wisest decisions in order to be able to get the foundation stacks ready and become a winner.
One of the things that is definitely able to make things a lot more interesting while playing solitaire on our website is that you can always enter the competitions. This way the players that will always be able to finish the game as fast as possible will be declared winners. You can interact with the other players on the forums and be part of the community. A community that shares the same passion for solitaire as you do.
There are no downloads necessary and you just have to visit our website and you can start playing the games in your browser for free. The game is fun and once you get to understand how to play it, you will stick to this game for many hours.